This review of the Olight Warrior X Pro reflects my personal opinion about this very tough medium thrower. I want to show you how I changed from being enthusiastic to being skeptical to finally really satisfied with this flashlight.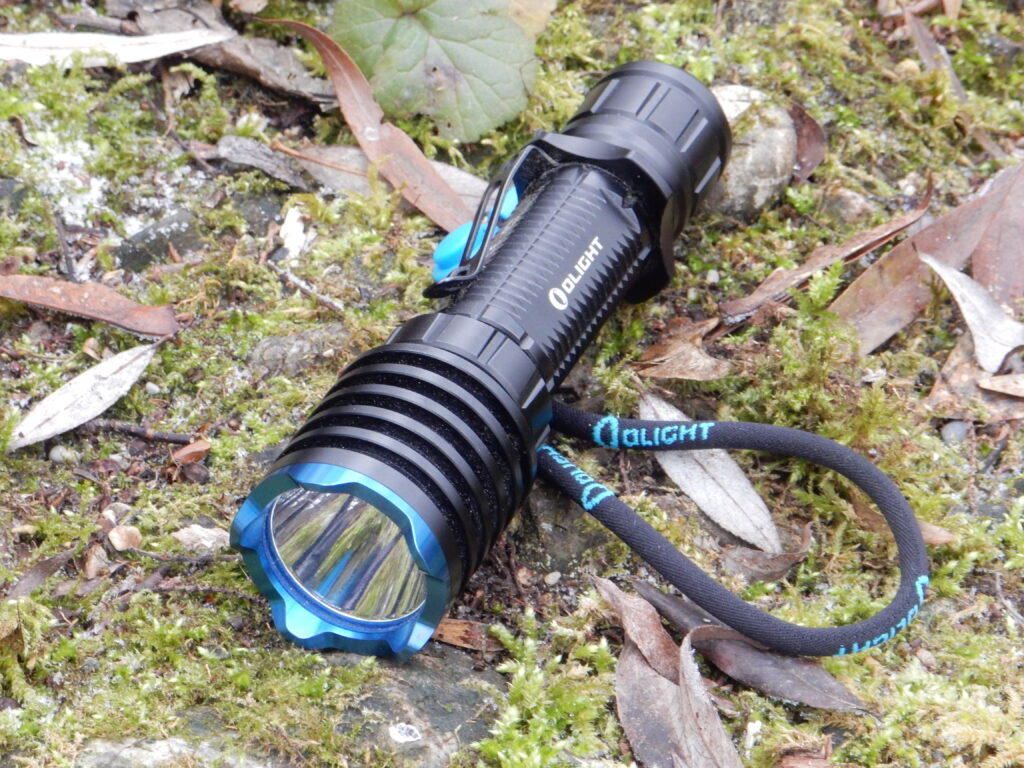 How I ended up with a Warrior X Pro
If you know about Olight you should by now have realized that they not only build great flashlights but they are also marketing experts. When you're into tactical gear it's almost impossible to avoid them and I mean that in the best of ways. I already owned some Olight lights when I found ads about the then new Warrior X Pro and it immediately caught my attention. Long story short, I really wanted one and I wanted the limited camo edition. A lot. Unfortunately I missed the limited edition and kept back from getting one after all. But since I stumbled about it over and over again I took the chance when there was another discount on the black edition.
First impressions
Opening a package of an Olight flashlight feels like getting a new IT-gadget. They definitely know their branding game. You get:
The flashlight itself
A massive 21700 battery
A magnetic USB charger
A pocket clip
A lanyard
An alternative tactical ring
An instruction booklet
A more or less MOLLE/PALS compatible carrying pouch
Taking the flashlight out of the package with the battery installed leaves one prominent impression: It's big and it's heavy. I already had 21700 battery flashlights but this one's different. If you know G-Shock watches, I would compare the Warrior X Pro to them. Massive, overbuilt, heavy, exactly what I like.
Behind the not too aggressive striking bezel there's a medium sized head with a smooth reflector. This reflector gives the Warrior X Pro a very focused spot combined with enough spill for orientation.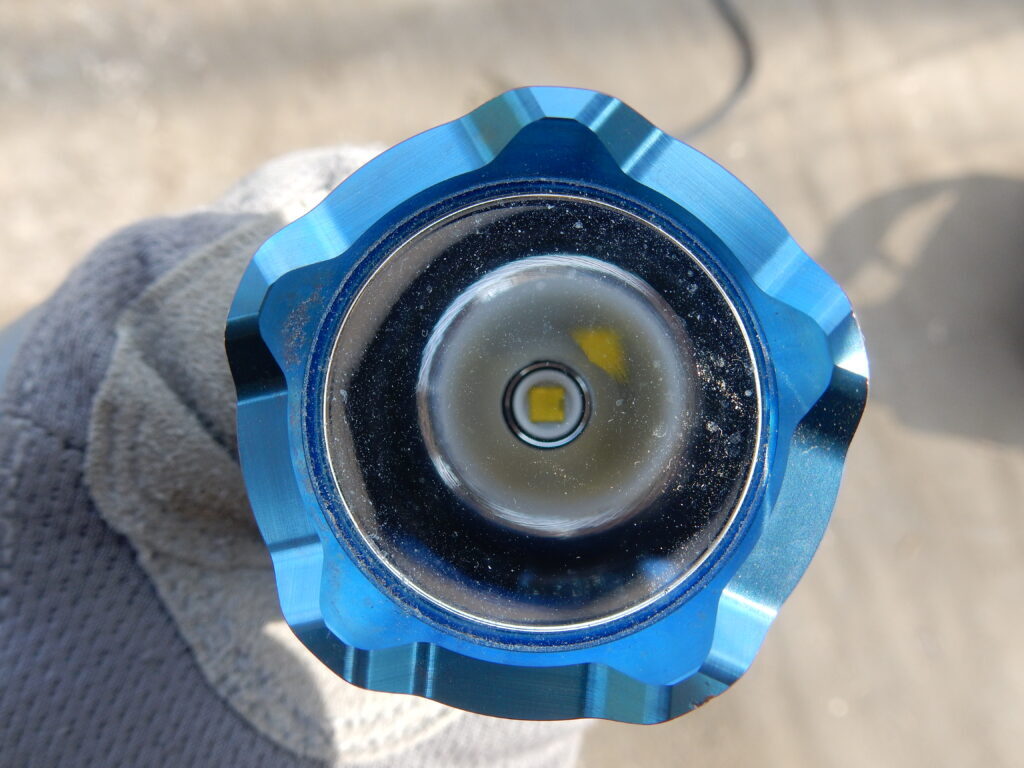 At first I charged the flashlight fully as advised in the instruction booklet. As you might know, 21700 batteries have an impressive capacity so it took quite a while (several hours) to fully charge it via the magnetic USB charger.
When I tried it for the first time, the initial reaction was like it can be expected: Wow, that's bright! The second reaction was: How do I switch to moonlight mode? Strobe? Anything else than extremely bright and very bright? I got back to the manual and then realized that there is no other mode than these two. You can just choose whether you want them momentarily or for longer time.
This left me somewhat puzzled. To be fair, I should really have checked the specs on the website before I bought the flashlight but read on to learn why I ended up being happy that I did not check beforehand. I might have skipped buying the flashlight if I had read about the missing modes and that would have been a pity. I just expected those basic modes to be implemented in every high class tactical flashlight today. To be honest, I was disappointed.
Using the Warrior X Pro
Nevertheless I took the light for a walk in the dark with our dog. I use these walks to play around with my flashlights and most of the time it's not just playing but they're really useful. If you ever had a Labrador puppy you'll know they'll eat everything they can find. And I'd like to know whether it's something I should try to take away or something that's ok to munch on.
The user interface
With most tactical flashlights taking a short glimpse means scrolling through different modes, pressing buttons for a specific time frame or always going into instant turbo mode which is not only not necessary but also disturbing.
That's different with the Warrior X Pro. Just slightly press the button on the rear end for 300 lumen focused light. Way enough to see what's lying around but not blinding. Release the button and it's dark again. Ok, that was easy. Next stop, trying to illuminate the opposite river bank. Press the button fully and "Oh my dog!", that's still bright and focused.
Pressing the button only instantly turns on the lamp permanently. Again, low press for 300 lumen, fully down for the big show.
The beam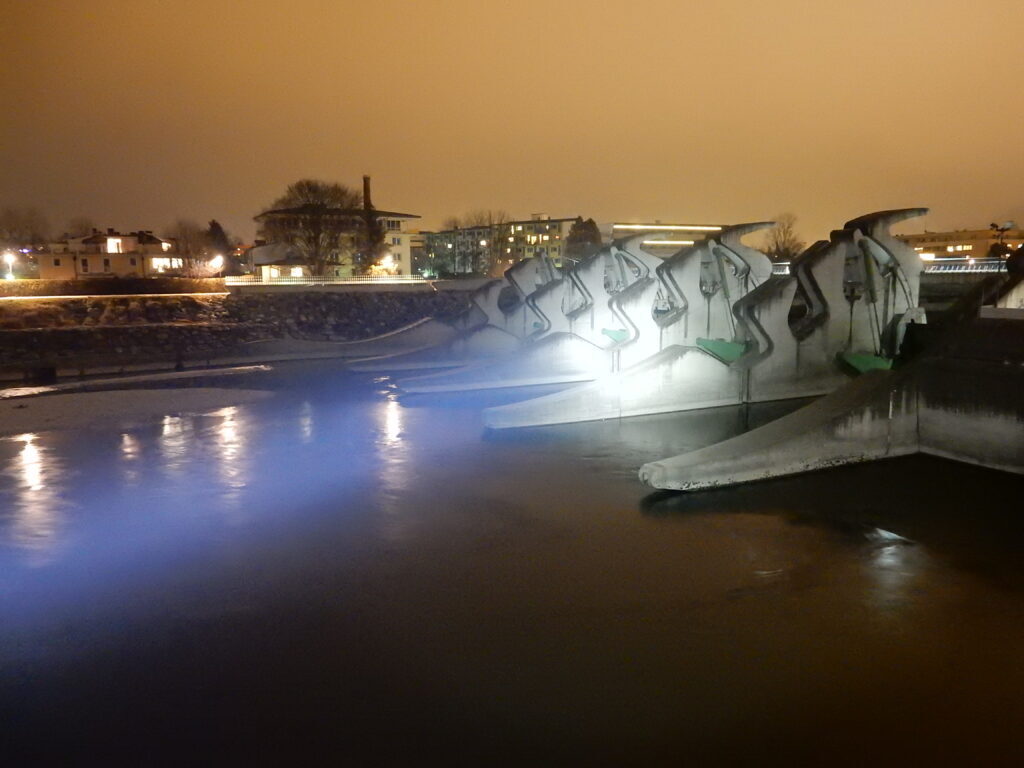 The beam is very well balanced. You have a very focused spot that reaches a long way but still you have enough spill to identify your surroundings. A really upside of the very focused spot is that, if you're not pointing on a white wall, you will not as easily blind yourself as with flooders. In a real world surrounding there's grass, bushes, trees, stones, fences all things that will diffuse the beam and since it's a small spot there will be only a small amount of light be reflected to you. That's different from a typical flooder where a whole area will be extremely bright. On the other hand you will still throw very far if there's nothing close that could reflect the beam.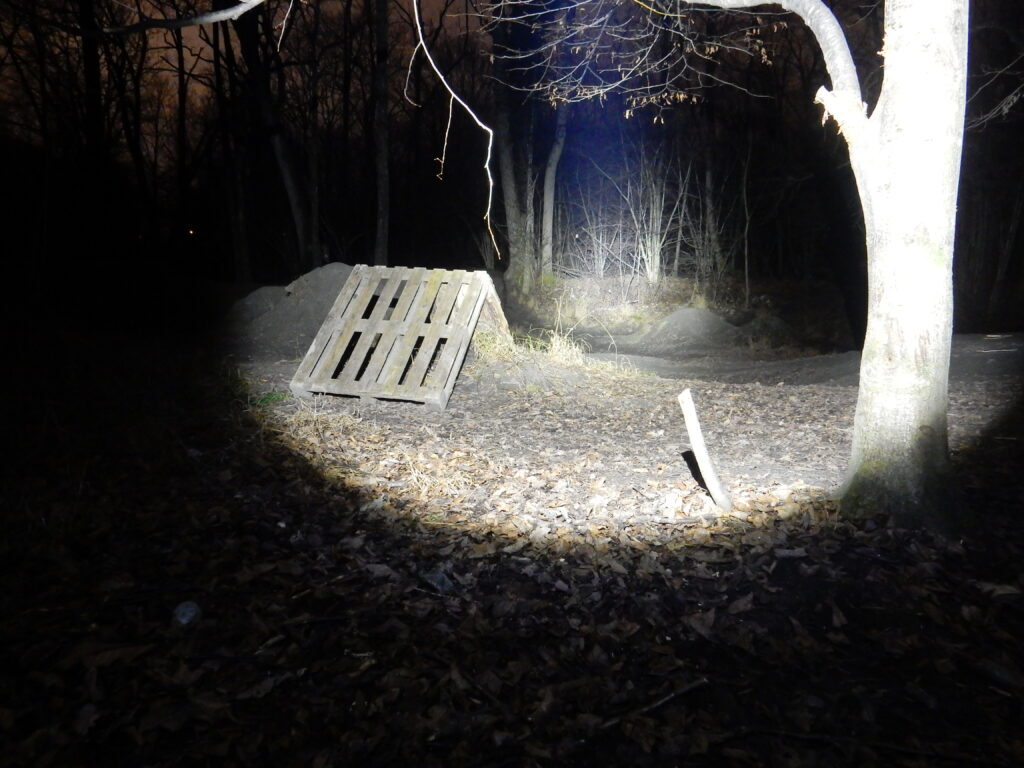 Toughness
As I said from the first expression, the Olight Warrior X Pro is built like a tank. I didn't do any destructive tests and I can't tell if it's a match for the brands that usually are associated with extremely rugged builds but it definitely feels like it is. Olight states several hard tests and certifications for this model and just holding it in my hand I can really believe them.
On one of my first days using this light I dropped it on a tarmac street surface. I'm no fan of safe-queens and I use my stuff so I'm fairly used to my gear showing wear and tear but I still got sad that the nice new flashlight would show tarmac marks right away. But to my surprise it didn't show any. Over the time I accidentally dropped lights of many brands and they all showed marks. But this one didn't. Maybe I was just lucky but I still believe it's due to it's tough build.
The accessories you get with the Warrior X Pro
As with most current flashlights you get some extras in the package. I've given the raw list above and there are two items worth mentioning.
Tactical rings
The alternative tactical ring can be exchanged for the ring that comes already mounted. These rings are used to hold the flashlight "cigar style" which helps when you are holding something else in your hand and want the light to point in the same direction. This style of holding comes from tactical use cases to allow for pointing a gun and illuminating what you're aiming at. Even when you're not using a firearm in your daily live there are several situations where it might come in handy to be able to grab something while you're shedding light. I, for example, use this method a lot while walking the dog. I can handle the leash and still hold the Warrior X Pro.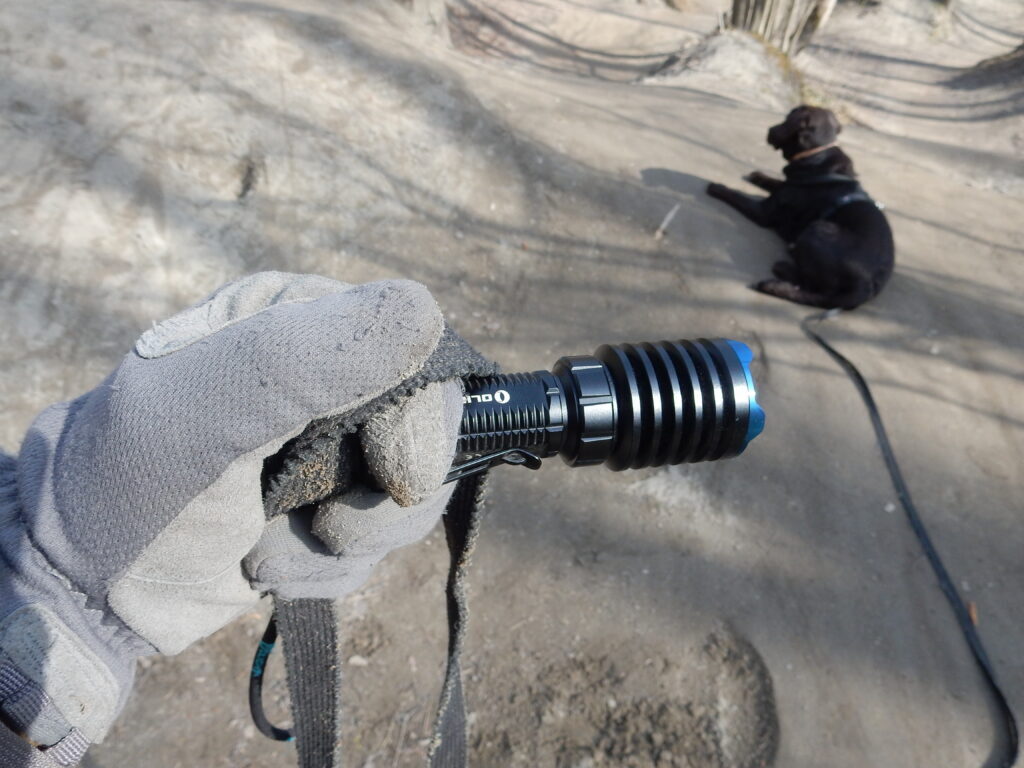 The pouch
You get a rather stiff pouch with your flashlight that has holes on both ends. One hole shows if the light is still on. You don't want it to be running inside the pouch. Not only because it will drain the battery but more so because it becomes really hot. The other hole simply allows you to use the tail switch while it's still in the pouch.
The mounting system of the pouch is the biggest drawback of the Warrior X Pro. I own several Olight flashlights and every one comes with a pouch which is more or less useless with MOLLE/PALS webbing. Yes, the strap on the backside fits through PALS loops but the snap buckle just won't hold fast. The other lights I have only have this buckle and it's so easily opened that it can simply rip off when you get stuck somewhere. More than once would I have lost an Olight flashlight if I hadn't heard the sound the pouch made when it hit the ground.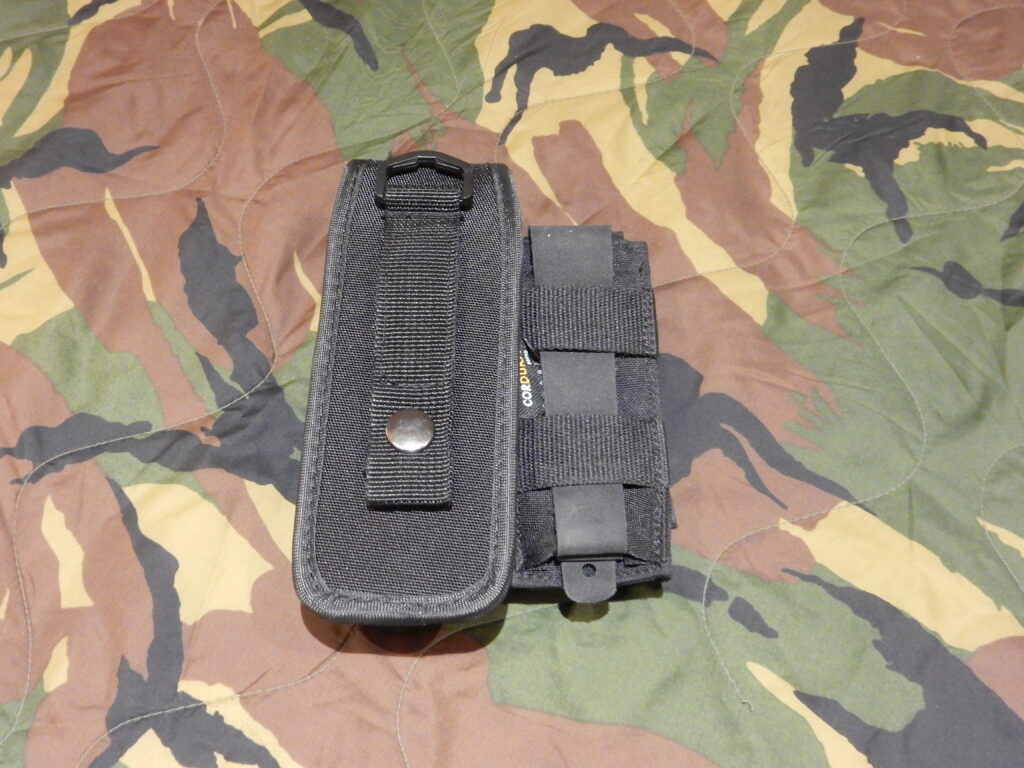 The pouch of the Warrior X Pro was quite promising because it has Velcro strips along the mounting strap. Yet, it ripped off just as easily as all the other ones.
So I switched to one of the following three solutions, depending on the situation:
Secure the pouch with an ITW Nexus Web Dominator through the D-Ring in addition to the strap
Replace the pouch with another one. Usually "single pistol magazine pouches" work well
Skip the pouch completely and put it into my pants pocket. The sharp bezel might be a hazard to your pants, though
Before publishing this, I got into contact with Olight. They sent me an apology and told me, they'd get my suggestions to their R&D department. I gave some hints about how PALS pouches usually work and I really hope that the next models will have horizontal straps to weave the vertical one through.
The charger
Like most rechargeable Olight flashlights the Warrior X Pro comes with a magnetic charging cable with a USB connector on the other end. With this you can charge the battery with every device having a USB port what gives you a lot of flexibility.
This is easy and convenient and I'd say it's less prone to breaking than a standard USB port in the flashlights body. The only thing that annoys me is that the different generations of chargers are not compatible. So you need to use the correct generation for every Olight flashlight you have. Honestly I can't imagine that this is due to Olight trying to make extra money with extra accessories. I really believe that there's a technical reason.
Personally I'd prefer to have chargers that work with every generation of flashlight. I'd gladly pay some Euro extra when I could have one charger that tries to find the fastest way of charging the combination of USB port, charger and flashlight can achieve. Extra bonus for an extra color for the LED on the charger – like yellow indicating that one of the devices slows down the charging process. Extra, extra bonus for different blinking rhythms to help visually impaired people to identify status.
Summary of the Warrior X Pro usage
I expected the flashlight to be tough and very bright. What I didn't expect was the lack of features. But very soon, after only 2 or 3 days of usage I started to rephrase "lack of features" as "no nonsense" or "easy to use". Given, there are real world use cases for moonlight mode or strobe but in my daily life I honestly just don't miss them.
Strobe is useful for blinding a potential attacker. I'd say the light is bright enough so you might not need strobe.
Moonlight or other low modi are used for not blinding yourself, saving battery power and going unrecognized. The lower mode with the focused beam throws very far but yet you're not blinding yourself because the bright spot is so small when it hits something close to you. It run's for several hours on the 21700 battery. And when I want to go unrecognized I use a more specialized flashlight and/or filters with red or green light.
In exchange for modi I *want* but don't *need* for a flashlight that's very easy to use, especially if you just need to shed some light on a specific spot and then go dark again. The Warrior X Pro is definitely more intuitive to use than many other flashlights I have.
All in all the Olight Warrior X Pro is and especially *feels* different from most other flashlights I used lately. It's tougher and more overbuilt which results in a heavier build. It is way more utilitarian than most other feature laden lights I use. The wide spill in combination with the very bright spot gives enough flexibility by itself so I don't miss different levels. I just move the beam and sometimes only use the spill to light up what I need to see and let the spot shine on something else far away. This way I might be quite easy to spot but that's not always a problem.
Special features
Olight manages to add nice extra features even to a utilitarian workhorse like the Warrior X Pro. The best part is that they don't break the no-nonsense approach but add extra value unobtrusively.
Battery indicator
Some modern flashlights have one or more extra LED to show how much the battery is charged. This way you won't run out of battery when you need the light the most.
An extra LED might break the hulk like appearance of the Warrior X Pro. So Olight came up with a rather unusual feature on a flashlight: It has vibration alarm, just like a smartphone! Different from smartphones this "vibra call" function is silent and not very strong.
That's a good thing because most likely you'll hold the flashlight in your hand when it starts vibrating. You won't recognize it when you don't hold it but it's clearly there when you hold the flashlight. It's just a short pulse when you turn the lamp on with the battery almost discharged.
Glow in the dark ring
Inside the head, just behind the bezel there's a thin line of glow in the dark material. You definitely won't recognize it when you haven't charged it by turning on the flashlight.
When you turn of the light and have a look into the head you'll recognize a small glowing ring and that's just a very nice feature.
Technical specifications
Most important facts from the manufacturers website:
Brightness: 2 levels – 2100 and 300 lumen
Range: 500m
Battery: 21700 (customized)
Waterproof level: IPX8
Weight: 239g
Length: 149mm
How I use it
Usually I like to give a personal impression at the end of showing you more general details of items I write about. Since this review is already relatively personal I'll keep it short this time.
To sum it up, Olights marketing totally hooked me on this flashlight until I got me one. Unfortunately too late for the limited camo edition.
When I had it, I was first impressed by the massive build then disappointed by the lack of features. But after a very short time it grew so much on me that I started to love the Olight Warrior X Pro as much as I had hoped.
In fact, whenever I left home in the evening I always reached for this very flashlight instead of others and I'd say that's the best way to tell you how much I like it. It just feels *right*.
As I said in my post about my EDC I always have a second flashlight me in case I loose my "main flashlight". In the past that was a Fenix L1D, now it's a SureFire E1B.
By the way, when you're generally interested in flashlights, I recently posted a flashlight guide on Perunikas blog.