This review of the Extrema Ratio Scout want to show you why this knife might be your perfect EDC companion. It balances several key properties and gives you a lot of flexibility when it comes to carrying.
I started collecting knives long before I even knew what "tactical gear" was and I carried a knife since I went to school. Taking my habits as a collector into account it's only natural that I own quite a number of knives. So when I finally find one that I carry almost every day it really has to be something special.
One of these special knives is the "Scout 1 black" from Extrema Ratio. It's no wonder I chose a knife from Extrema Ratio because they built the second ever "premium" knife I ever owned and they are by far my favourite maker of knives until now.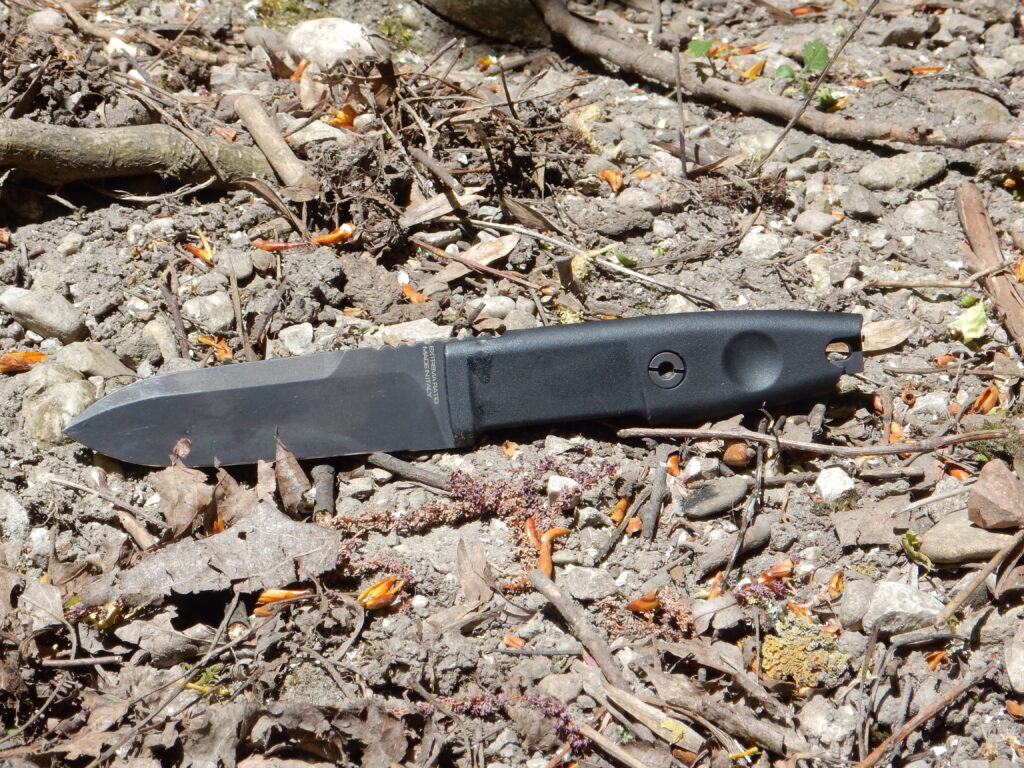 Like all Extrema Ratio knives the Scout is made of Böhler N690 steel. Unlike the more classic Extrema Ratio knives it's smaller (blade length 103mm) and thinner (5mm). It uses the new style smaller handle for the smaller blades. I won't list all of it's key facts just to copy what you can find on the manufacturers website. I own the "Scout 1" with black coating. If this is not exactly what you were looking for, there's also the Scout 2 (slightly longer and pointier) and the Defender (has a guard and the blade is a bit more aggressive looking), also in 1 (short) and 2 (long). All of these knives come either with a black coated or stone washed blade so there are more than enough options to pick the one you like. All I miss is one in their signature "Desert warfare" camo pattern (formerly known as GeoCamo but now comes with a tan handle and sheath).
The overall appearance is very symmetric. If you just look at the silhoutte the knives spear point blade almost looks like a dagger. On a closer look you see the assymmetric grind with a false edge on the back. The very short tips makes it very tough and the straight edge makes it easy to sharpen.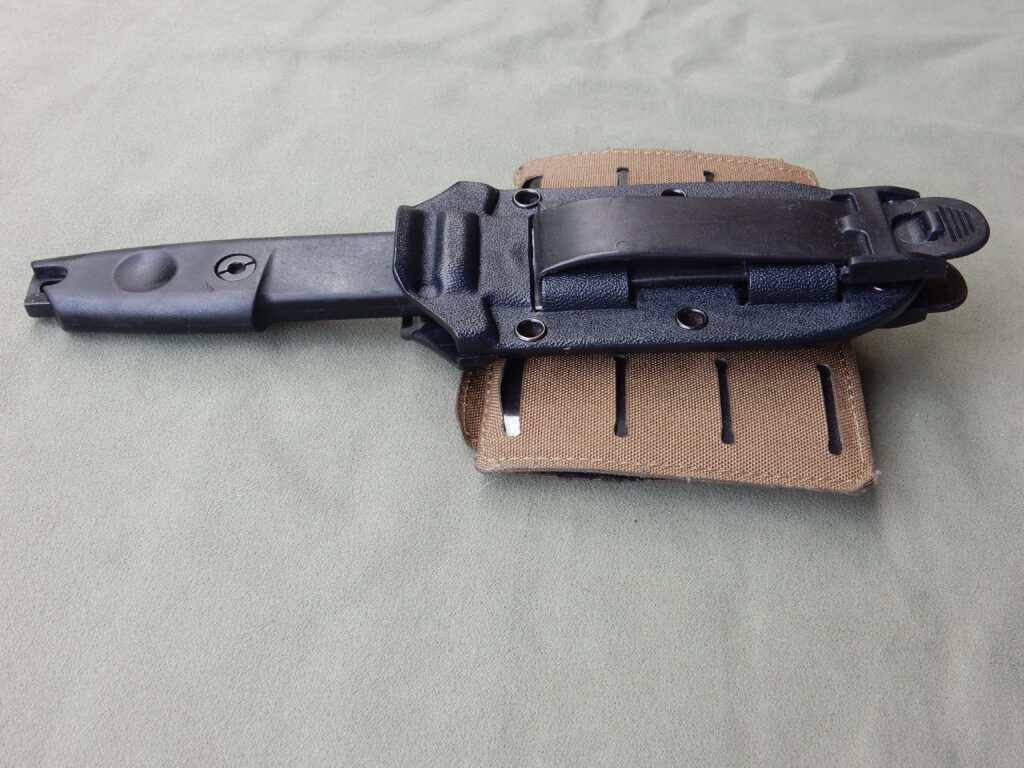 The new handle has a small circular retention which has no obvious use at first glance. This is where you almost automatically put your finger when changing grip position e.g. into reverse. I think it's quite hard to use on purpose but it works surprisingly well when you just don't care. It really helps when you just use it intuitively.
The balance point is just where the jimpings for the thumb on the back of the blade end. That's about 1cm from where the handle starts which is where you place your index finger when taking it up in the "hammer" grip like most people would do. This makes the knife rather agile and it feels like a very light blade. It doesn't help when striking, though. This is clearly a knife for cutting and not for slashing down trees. It's tough enough for batoning but the false edge on the back of the blade will break your club faster than other knives.
The Scout 1 has several key benefits which sum up to why I like it so much.
Key facts
It is a fixed blade knife. I always preferred fixed over folders
Small enough to carry it on your belt or in your bag without people aroung you getting nervous
Big enough to get jobs done
Really tough, considering it's size
Legal to carry in the countries I'm in most of the time (Austria and Germany)
Unsconspicous looking and named. Except for the black blade most people think it look's like a bigger boyscouts knife, not a weapon of war. You can upgrade this fact by getting the stonewashed version instead of the black one
PALS compatible sheath. Although sheaths from Extrema Ratio are sometimes clumsy, overly big and can dull your blade, this one is ok and you can attach it to anything from a pants belt to PALS webbing
Great handle. While it could be a bit bigger for me, the small handle add's to the ease of carrying. The material is forprene as on most Extrema Ratio knives which means it's not slippery and even feels good when really cold. You can easily remove it for cleaning and applying new oil.
Other than most Extrema Ratio knives there are no guards to keep your fingers from sliding into the edge of the blade. While this means you have to be a bit more careful when using force it also means that the knife looks and feels even less aggressive. There is a small retention for your index and middle finger which will help with a secure grip. This indention is like a signature design element on Extrema Ration knives but it's not as deep as on full size handles.
Although it's not as thick as standard Extrema Ratio blades (5mm instead of 6.3mm) it's still tough enough for most jobs. The smaller thickness gives it a bit more "slicyness" which can come in handy in many cutting jobs. But the blade is not very wide so the flanks of the blade are rather steep which still makes it more of a heavy duty knife than a real slicer. More on that later
It has a glass-breaker at the end of the handle
You can get the raw data of the knife at the manufacturers website.
To sum the facts up, it has most of the benefits I love in Extrema Ratio knives while it won't get you into trouble as easily in situations where it might not be acceptable or legal to carry a full blown combat knife or bayonet. For me it's an almost perfect compromise.
Carrying
First I just put it my backpack while traveling but I realised that I almost never used it. Most of the time I do have another, smaller blade in the pocket of my pants so I almost never got the Scout out of my backpack when I needed a knife. Then I tried fixing it to the belt on my pants. But since the sheath was made to fit onto two rows of PALS webbing, it didn't hold steady but was really wobbly instead even though it could not get lost.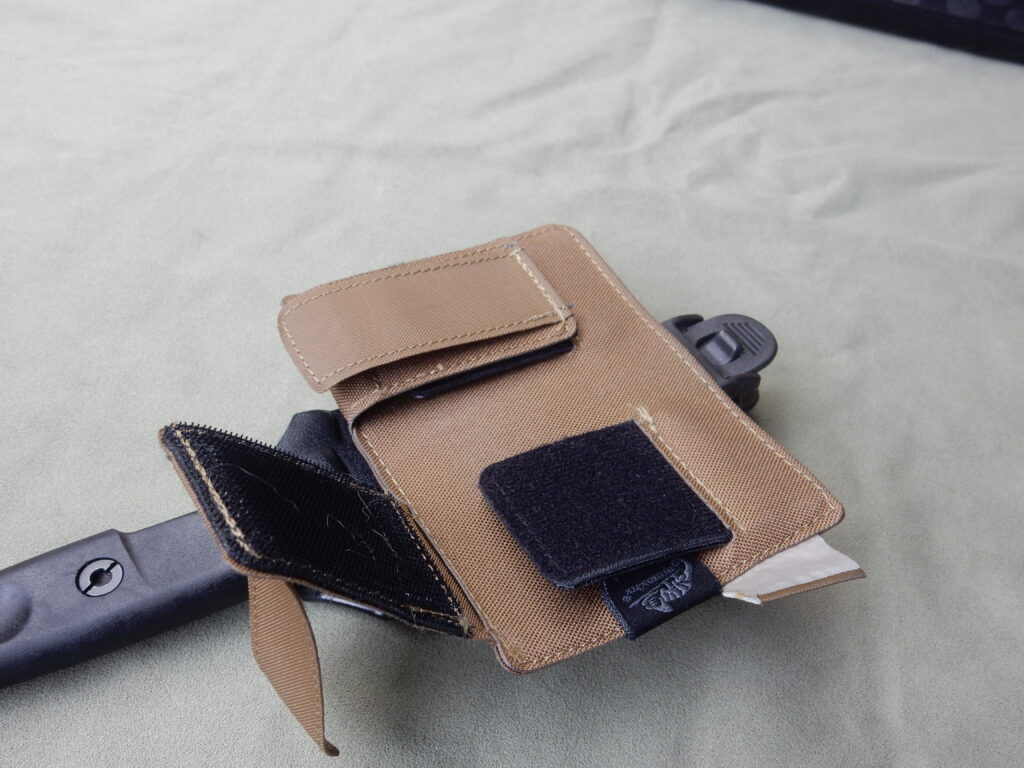 Then I got a PALS mounting panel for belts from Helikon-Tex. That's basically a 3×2 panel of laser-cut PALS loops with two velcro loops on the back. You wrap the velcro around your belt and you end up with some PALS loops on your belt. This way I can easily carry the Scout on my belt and have it ready whenever I need or want to use a knife. There are smaller adapters around but the broad one gives the extra stability I wanted.
The sheath is symmetric and you can put the blade in in any direction. The indention for index and middle finger helps a lot with identifying the business side before drawing. This way it's almost impossible to cut yourself just because you forgot which way you sheathed your knife.
Usage
The handle of the Scout is smaller than that of the full-size Extrema Ratio knives which makes it way easier to carry but not as comfortable for longer periods of work. This doesn't bother me much since I'm not carrying the Scout when I expect hard knifework to be done e.g. chopping down dead wood. But it's perfectly good for occasions where I have more delicate work to do like rough carving or preparing a meal while on the go.
In fact my main use for the Scout is as an EDC knife I carry on business trips. I might not need it in the office too often but I really like it as a table knife when I'm having dinner at the hotel room. When I'm on trips I don't always eat out but sometimes I just buy some bread rolls and sausage at the supermarket and eat in my room. This is where a decent blade comes in handy.
I love to use this knife whenever possible. I use it for opening packages, cutting blister packages open, as a table knife, peeling fruit and whatever I can find to do for it while on the go. To be honest, all these tasks would be manageable for a lesser blade as well – maybe even better – but the Scout always brings a smile to my face when I use it. Since I like to be prepared for unfortunate events the Scout gives me confidence that it won't let me down. Even if I would have to pry open doors or smash a window in an emergency.
The only downside I found is the missing guard which could keep your fingers from sliding into the blade when stabbing (e.g. watermelons). On the other hand the missing guard makes it look way less aggressive which helps if you intend to carry your knife more or less open in different environments.
Taking care
The Böhler N690 steel Extrema Ratio uses for all of their knives is not stainless. This is generally a good thing because non-stainless steel allows for better and especially sharper edges. The downside is that it's, well, not stainless. So like with every high performance tool you have to take care of it. The black coating (or the stone wash finish of the other versions) helps with keeping the blade from getting rusty all too quickly but nevertheless you have to take basic care.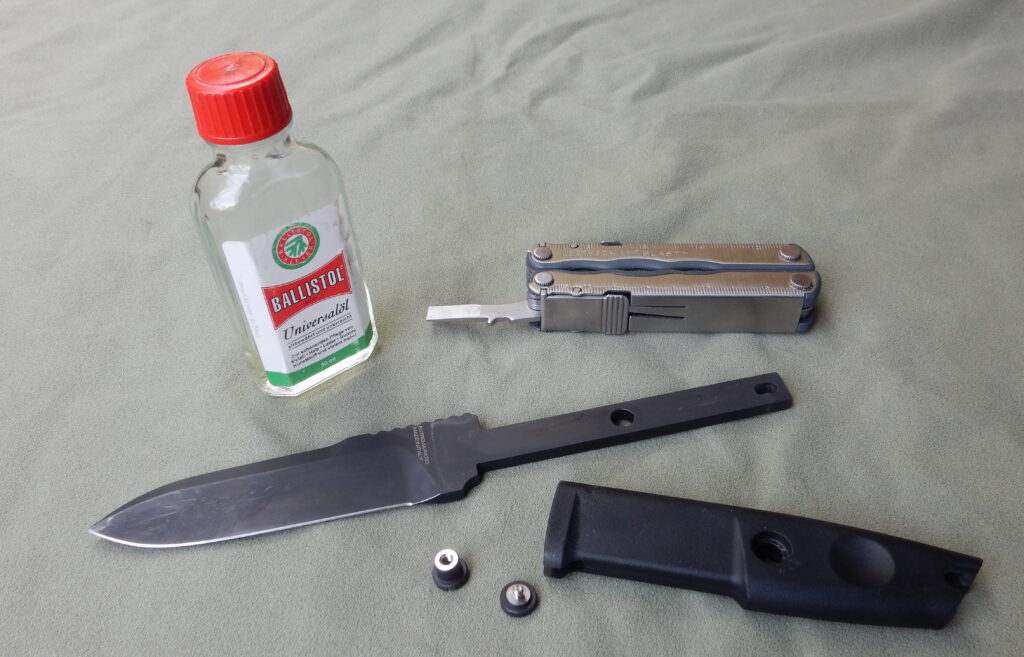 The knife won't break if you don't follow all the rules to the point but keep in mind that it will degrade with time if you don't take proper care.
Always keep the knife as dry as possible
Never sheath the knife while wet or dirty
Don't let any acid stay on the blade. That's important when you used it to prepare something to eat like tomatoes or something with mustard
Apply some oil onto the blade from time to time If you plan on using it on something you want to eat you should opt for edible oil like Ballistol
Don't forget to remove the handle and apply oil there as well. It's easily done and it will really pay off
Expect the coating to get scratched over time. While this one's quite tough no coating will stay forever. Just look at it like small scratches in your leather notebook or the patina on your copper flashlight.
Get yours
If I convinced you and you want one of your own, get in contact with SARtools. They can get you one and you can rely on their superb customer services. Get in contact with them if you can't find it on their shop.
I placed links to a lot of shops on this post. Some are advertisements, some are affiliate links. Read more about this on my links page.