Acta Non Verba Z100 BB – the newest addition to my collection of knives. Read this review to learn what I found about this knife and decide if it's worth to be your trustworthy companion.
Overview of the Acta Non Verba Z100 BB
The Acta Non Verba (short ANV) Z100 BB is designed as an EDC folder. Very light, very sleek, slim and pleasing to the eye. But when you already know a bit about Acta Non Verba you will know that they never build objects of pure decoration. If you know my collection you might be surprised why I got a, relatively, small folder but more about that later.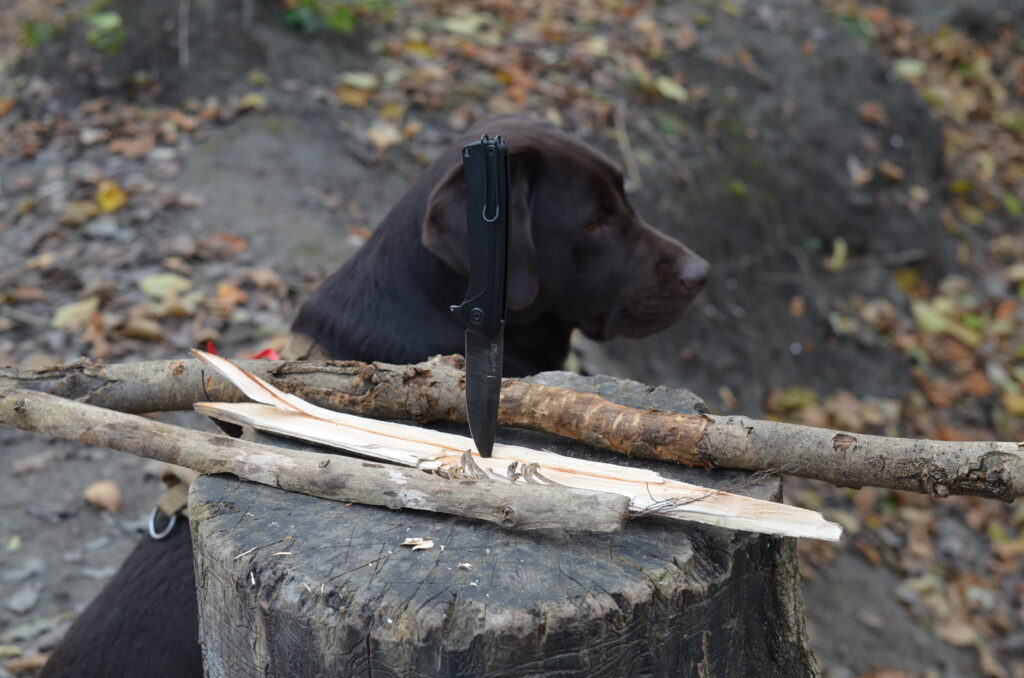 ANV usually offers a lot of customization options for their knives in the shop. The Z100 BB is currently only available in this all black version but there is the Z100 as an alternative that can be had in lots of different colors. The difference between the Z100 and the Z100 BB is that, you might have guessed it, the "BB" version has ball bearings instead of washers. I will go into detail about the importance of this choice in an extra paragraph below.
The build
The Z100 BB has a single drop point blade that opens with a flipper. The handle consists of two scales of black GRN (forgive me, if I call it "plastic" for the sake of simplicity), both with a nice duo-tone look that's simply achieved by different finishes. Inside pockets in the scales there are metal liners to stabilize the handle. The blade is secured by a liner lock and opened with a flipper. In this flipper there's the only spot of color: a tiny dot of superluminova (glow in the dark material). A simple deep carry clip made of wire finishes the minimalistic, elegant build.
In the liner lock there's a detent ball that holds the blade closed. It's quite strong which adds to the "flippiness" alongside the ball bearings. First you must overcome the detent and when it gives way you automatically keep pressing with the same force on the flipper which opens the blade fast and smoothly.
First impression
When you take the Acta Non Verba Z100 BB into your hand for the first time you have the same effect like with every blade of ANV. "Wow, that's smooth" is most likely the first thing to cross your mind. There's no sharp edge (safe for the edge of the blade, of course) on the whole knife. It doesn't feel like a clunky tool but more like a sophisticated piece of jewelry when you take it in your hand.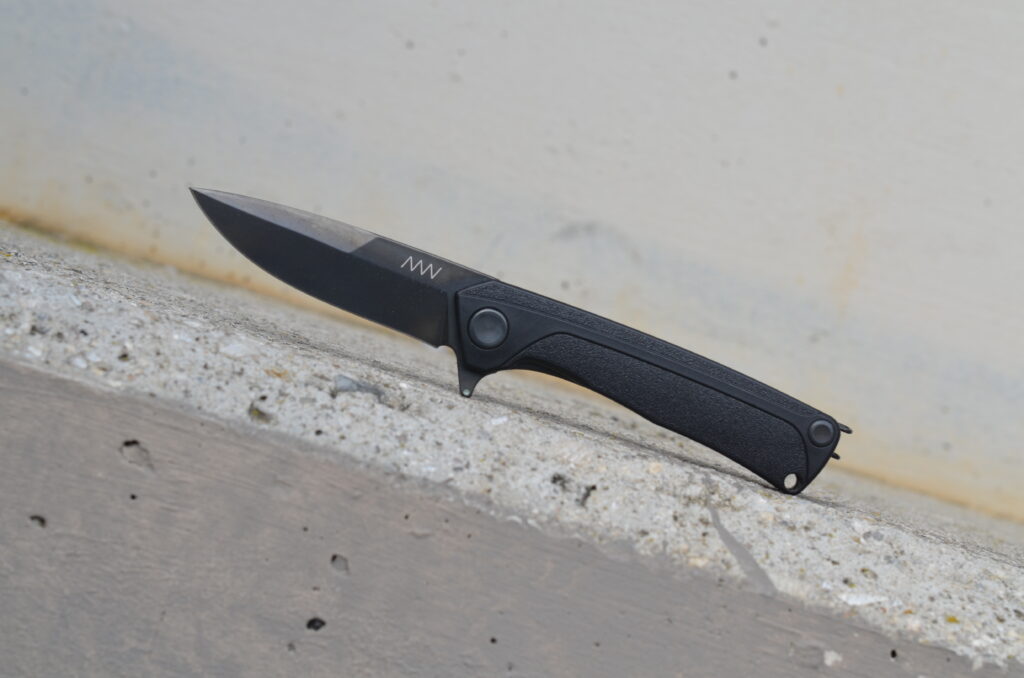 You can tell that the whole construction is optimized for a balance of lightness and toughness. The GRN handles with metal liners only have a single round spacer in the back. So when the blade is opened the handle is more or less open. That makes cleaning without disassembly a breeze. You also only have to open two screws when you do have to disassemble the knife for cleaning. The one for the spacer also holds the clip and the other one is the blade axis. Speaking of the clip, you can mount it on both sides but just tip up.
The blade
Of course a knife that light is not made for prolonged heavy work. But the materials are well chosen and if you don't abuse it as a crowbar the Z100 BB won't let you down. This isn't a decorative blade that's just good to open a letter. The Sleipner steel used for the blade is tough and has decent edge retention. Acta Non Verba hardens the blade to 60 HRC so the steel is not going to break easily. Sleipner steel can go up to 63 HRC so ANV does a good job by not hardening it to its maximum. Besides the higher resiliency against breaking you will also be able to resharpen it yourself without power tools.
The blade is beautiful and has a useful drop point shape. Fitting the technical character of the Z100 BB it's composed of mainly straight lines, flat surfaces and only very few curves. Together with the well rounded edges this makes for a very aesthetically pleasing overall look. The shape is perfect for all kinds of cutting tasks. You not just "make it in half somehow" but you have enough length of edge to make long, clean cuts. The cutting angle is a good compromise between strength and cutting power. You can cut apples and carrots without breaking them apart (like with wider angles) but the edge is not fragile. The drop point also will give decent penetration capabilities (into fruit, hopefully).
Some companies have huge logos on the blade which many think destroy the overall looks. Acta Non Verba did a great job with very decent but informative markings. One side bears the ANV "wave", their logo, which fits the technical character of the knife just perfectly. The other says "Z100 | Sleipner, Czech Republic". After the "Sleipner" word there's a cryo logo referring to the hardening process. The best part is the "Acta Non Verba" text on the rounded spine of the blade. Even when you know about laser engraving and similar things it's still impressive how they got the clear markings on this tiny and rounded space.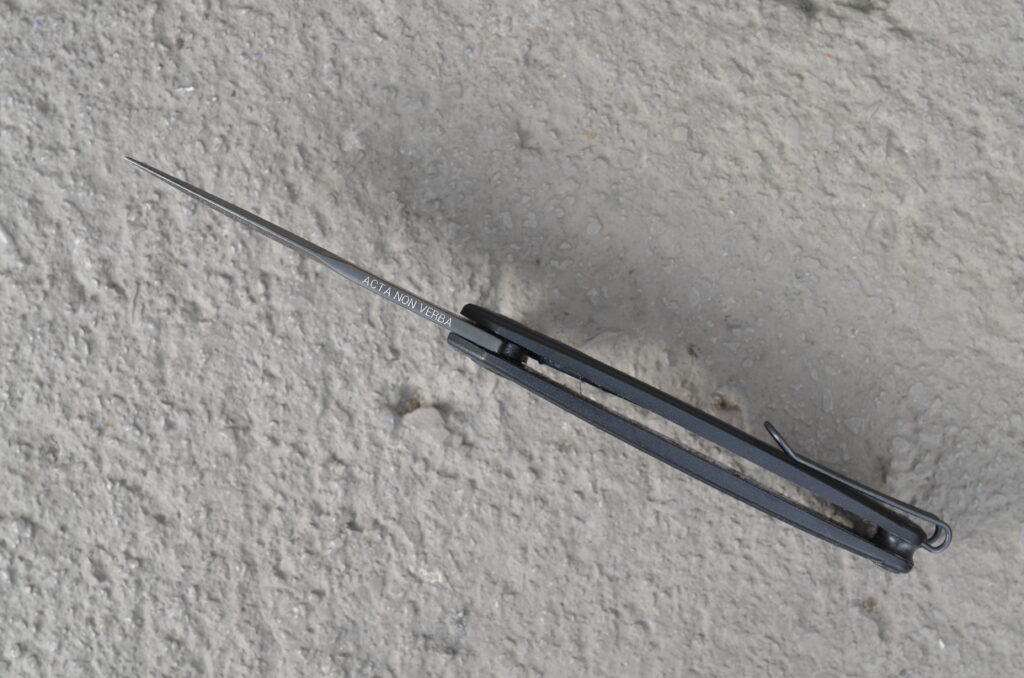 The "BB" in the Acta Non Verba Z100 BB
What sets apart the Z100 BB from other knives of Acta Non Verba is the Ball Bearings. There's a huge discussion whether BBs are a great addition to knives or not. It's heated up enough inside the knife enthusiasts bubble that some people choose their next purchase on the fact whether it has ball bearings or not. ANV did a great job in two ways. First there's the standard Z100, so if you hate ball bearings, just buy that one. But the Z100 BB doesn't use basic BBs. ANV removed the cage and placed the balls freely inside the handle. This allows to have more than double the count of BBs and increases the stability by a lot. So maybe, this is the knife to end this heated discussion?
There's just two drawbacks you must know. First, disassembling the knife needs extra caution not to loose the balls. Second, the blade is not as "flippy" as other knives with ball bearings. So usually you need to give a (tiny) extra jolt with a flick of your hand to have the blade jump into locking position.
Findings
Just a few things I found remarkable about the knife.
The whole build is extremely smooth. Even the rear end of the spine is rounded. You can't cut or scratch yourself when you don't touch the main edge
The clip is minimalistic on purpose. It's very unobtrusive when you carry the knife in your pocket
The flipper has a slight curve. That looks great and it helps to guard your finger when the blade is open
Opposite the liner lock there's a tiny notch in the scale. It's small enough so you might not even recognize it. But it's big enough to help with reaching the lock for opening
Testing the ANV Z100 BB
What would be a better way to test an EDC knife than to carry it daily? So I did just that. Of course I just didn't carry it around but I made sure to find occasions to use it. The sleek deep carry clip helps with having it with you all the time without startling anyone. The body doesn't show a big shape in your pocket and the clip could be from a pen, too. It's so light that you can easily forget that you're even carrying it.
For someone who likes heavy fixed blades like me it takes a while to realize that this knife isn't actually fragile. Quite on the contrary but more on that later. So I started with easy tasks and worked my way up. I don't like to spare my knives from hard work. But on the other hand I don't want to destroy them on purpose either.
The blade could shave a few hairs but it was clear that it came not razor sharp. That's good, because the sharper the blade the sooner it would become dull. After a few strokes on a leather belt I could easily shave hair off my arm nonetheless. So for a "user" knife I'm absolutely pleased with the sharpness it came in.
I knew that this wasn't a model that would show signs of wear and tear from only carrying it around. So I soon started to try it on wood carving while hiking. The blade can show it's cutting capabilities, especially with hard wood. You don't just break branches apart but you can cut long, clean shavings. As expected, there were no signs of use what so ever. Only the tree sap left a few stains on the coating but a sponge and some water could easily remove them. (For harder cases of stain I used Ballistol oil)
Using the Z100 BB under hard conditions
For stability tests I didn't want to overdo it from the start. So I tried wiggling the blade around and some, very low force, spinewhacks. I was not able to move the blade a bit without unlocking and the liner stayed without moving through all the tests. When the blade is open, the blade glides perfectly into position and it will stay like that. I didn't try chopping because that's just the wrong knife for it.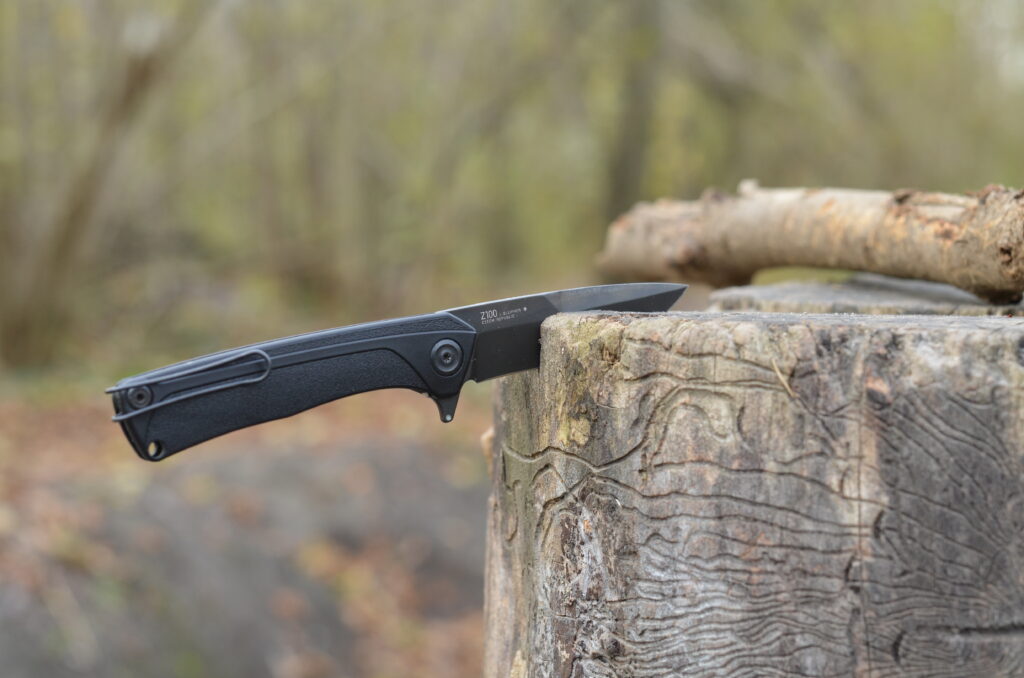 A knife like this is not designed for hard work like batoning. Still, I want to go over the sensible limits when I test knives so I did just that. I tried to split some wood and then check the blade. I was still able to shave hair from my forearm and make fine wood shavings. And, more important, there were no nicks in the blade – not even scratches in the DLC coating.
Edge retention
As expected there's nothing to dislike about edge retention. You will loose razor sharpness sooner or later after cutting and carving hard wood, cardboard and other edge killers. That's just the usual tradeoff between edge retention and ease of sharpening. More important is what happens when you lost your razor sharpness. If you have a sharpening tool at hand, you can restore it easily. Even while you're on the go. That's not true for every "super steel" but ANV did a great job on the treatment of the "Sleipner" steel blade.
And if you don't have a sharpening tool, the edge will stay very sharp for a long time, still. Shaving your hair of your arm is just for testing and showing off. If the blade is sharp enough to do a real job, that's way more important. And the ANV Z100 BB gives you just that. When the first extreme sharpness is gone, the knife will stay a long time in a shape where you can use it efficiently.
Cleaning the Acta Non Verba Z 100 BB
The open construction of the Acta Non Verba Z100 BB helps a lot with cleaning. When you carry a knife in your pocket all day it's bound to collect some lint. No matter how clean your clothes might be. Of course when doing messy work this will be true all the more.
I cut some juicy apples with the knife. While I hate exposing steel to acid, this is one task you will use a pocket knife for. After it there were tiny pieces and juice of apple all over blade and inside the handle. Just put it under a stream of water and that's it. If you need more cleaning power, you can always route some tissue through the handle. And remember this knife is easy to take apart and reassemble – if you know how to handle the balls of the ball bearings.
When you use water to clean your knife, remember to dry it properly and apply a drop of oil. Even when most of the knife is protected by DLC coating it can't hurt to protect the rest. Especially the liners inside the handle and the ball bearings.
Conclusion about the Acta Non Verba Z100 BB
I promised, I'd tell you why I added an unusual knife to my collection. Well, I had the option and got a good deal, I have to admit that. I tried to not be influenced when I come to my conclusion but I also wanted to be open about it. It's easy as that, there was an opportunity and I liked the looks, so I grabbed it. And I'm all but disappointed.
The knife is not only useful but it also works as a gadget. It's fun to flip it open and I love the glowdot.
If you take into account the price tag this knife comes with, it's definitely a great deal. The quality fits knives that set you back a way bigger amount.
So far I did not regret buying the Acta Non Verba Z100 BB. It will definitely stay a fixed part of my EDC rotation. It's unobtrusive, elegant and lives up to the tasks I have for EDC knives. I love things that are black all over and I love things that glow in the dark even more. So an all black knife with a glowdot is right up my alley. The construction won't let me think twice when I need to use it but still it fits better in situations where one of my usual huge knives would be unfit.