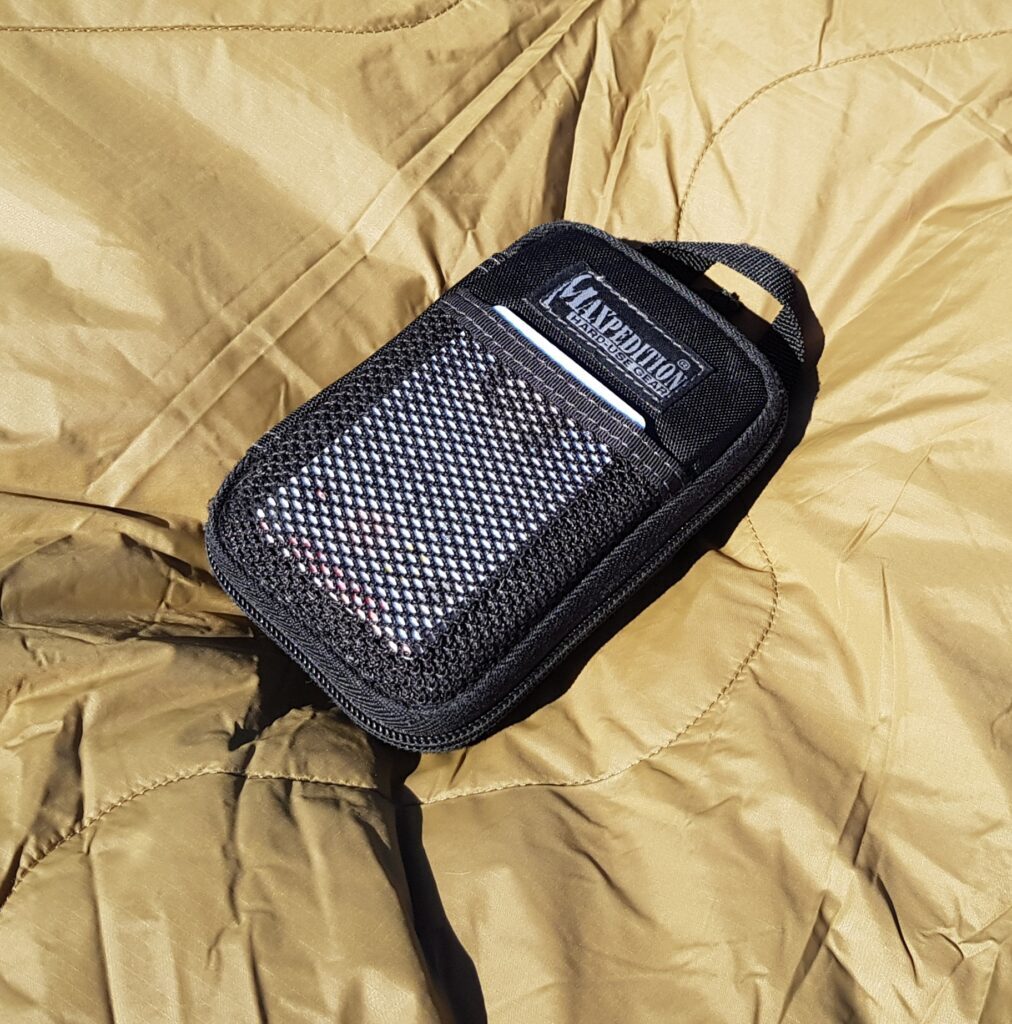 Besides my keys and my smartphone I try to always carry at least two pouches: One is a small first aid kit which I will cover in the next post and the other one is what I call my edc pouch.
The main purpose of this part of my kit is to have items that have proven to be reliable and useful. I keep them always in the same pouch so I'm used to the setup and I will easily find what I'm looking for if I need it. Many of the things in the edc pouch are mere backups for other things I carry. e.g. I always have a fancy/big/tough knife and a high power flashlight in the cargo pockets of my pants. But if they get lost or they don't prove to be as reliable as I thought, there will always be a knife and a flashlight in this pouch that will just work. Due to its nature I very rarely use the items in the pouch. Its contents almost never changes.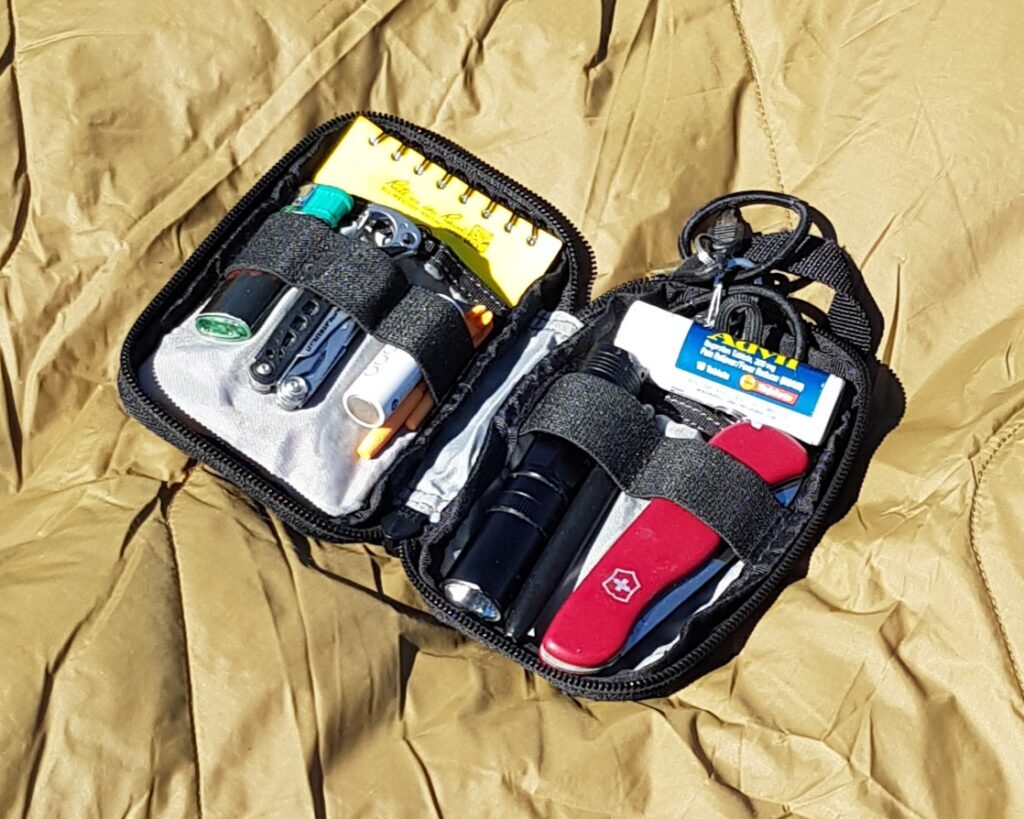 This pouch is a MAXpedition micro pocket organizer. You can get yours from maxpedition.de or amazon. This pouch is small enough to fit into cargo pockets of most pants but big enough to hold all the essentials I want to carry. And it's tough enough so I don't have to worry about it when I throw it into a bigger bag or backpack together with other items.
Where I carry it depends on the situation. I usually have a bag or backpack with me and this is where I put this pouch. When it's not appropriate to carry a full size bag I move the pouch into the cargo pockets of my pants. When I don't wear pants with cargo pockets I still have some other options I will discuss in later posts.
What this edc pouch contains
While the contents of you edc pouch should be customized to your personal needs, I'll show you what's inside of mine. Maybe you can use an idea or two.
SAK (swiss army knife) – "Alpineer": I got this from a business trip to Switzerland. I chose a SAK because it's legal in most countries. Furthermore people know SAKs as a tool not a weapon and don't get spooked by it. After having it for about 6 years I might replace it in the future with a Pioneer X maybe. While I like the locking blade of the Alpineer, such a feature is not legal in every country. Besides that, the Pioneer X has more tools
Flashlight – Fenix L1D: This is an out-of-production light with a single AA battery. I got it for quite some time now and it never let me down. I'm thinking about finally retiring it and replacing it with another flashlight, possibly a SureFire E1B. I discussed this in a thread in the tacticalforum.de . A good place to search for flashlights is selected-lights. If you want to learn about different types of flashlights and which one to get: I wrote a guide to flashlights on Perunikas blog.
Extra battery for the flashlight – Eneloop AA: I chose Eneloops because they were the first widely available Ni-MH batteries which hold their power for a very long time compared to other rechargeable batteries. I got mine from amazon
Pen – fisher space pen. It will write whenever I need something to write and it's really tough. Few things annoy me more than carrying gear around all time just to see that it fails when I finally need it. This won't happen with this pen. I have several from various sources but you can get yours from amazon.
Writing pad – rite-in-the-rain . This special paper will withstand lying in the water for a long time, doesn't stain easily and is overall some really tough paper. The only thing I don't like about it is that you can't write on it with fountain pens. Better use a pencil or space pen
Multitool – Leatherman Style PS: It's small and it's legal to fly with this thing since it does not have a blade. Save for the Maldives where every mutlitool is prohibited on a plane. Learning this piece of information was rather expensive. Get yours from amazon
Rangerbands: Cut up an old tyre of a bicycle or order yours from gearward.
Some string – Technora: There might be many sources out there but I got mine from gearward, too
Dog poop bags: They are available for free in places where people normally walk their dogs around where I live but an extra one comes in handy from time to time
Tissues: Just some extra ones
Tick remover – OTOM Zeckenhaken: You find them in pet stores or on amazon
An extra hairband: Just a no-name one
Lighter – Bic: Cheap, easy, safe, everywhere available
Glass cleaning cloth: No-name for my glasses
Chewing gum: In case I really want one. Usually I get a pack of tooth cleaning chewing gum
Ibuprofen – Advil: The case just doesn't fit into my first aid kit so I transferred it to this pouch. I use Advil from a trip to the US because I like the box better than the blisters they use in Europe. It's tougher when being compressed in a pouch
ID card: In case I lose my passport. Sometimes I need more than one ID e.g. when doing GnuPG cross-signing or CAcert assuring
Some motivation: It has the size of an ID or credit card and is too personal to list here in detail. Something I got from my wife
I placed links to some shops on this post. Some are advertisements, some are affiliate links. Read more about this on my links page.